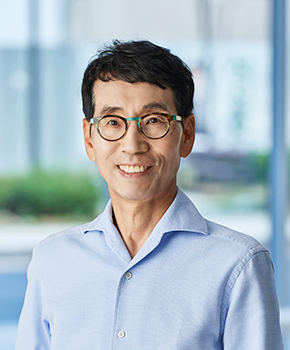 I would like to take this opportunity to express my sincerest gratitude for the support and cooperation from my clients since Genolution's establishment in 2006.
It has been a long-cherished desire of mankind to lead a healthful life without illnesses. Thanks to the magnificent progress of modern science, we are expected to live for longer and longer; the average life span has increased from 58.6 to 77.6 for men and from 65.6 to 84.4 for women. Unfortunately, the span of a healthy life is still only 68.79 years for men and 72.84 years for women. In other words, we spend a substantial amount of time suffering from various diseases towards the end of our lives.
Genolution ambitiously dreams of a disease-free world in which any illness will be treatable to some degree. Our first step was to produce cost-efficient yet effective molecular diagnostics equipment; we successfully launched our exclusive reagents and built the Nextractor, a highly economical extraction device with high throughput. As we hope to help to the extent we can in the global life sciences sector, we have started with our local community. We have been providing such equipment to numerous university hospitals, reference labs, diverse institutions of disease research, and many other testing facilities. Moreover, we take pride in contributing to the improvement of domestic health standards by developing RNA synthesis and RNAi services for herbicides and insecticides.
In 2015, we successfully accomplished KONEX listing of our share in Korea Stock Exchange and realized a turnaround by making KRW 16.6MM of operating income and KRW 81.4MM of net profit. Meanwhile, Distribution Agreements with agents in China and Italy in 2016 along with our highly developed technology and R&D investments are expected to trigger increases in sales internationally and domestically in the years to come.
As the CEO, I would like to proclaim that Genolution will relentlessly strive not only to serve as a molecular diagnostics company, but also to act as a company-to-be of Global Life Science in order to enrich the lives of our clients, shareholders and of course––all of those who may suffer from an illness in the future.
I would like to thank our valued customers and shareholders once again and express my gratitude for your continuous support and cooperation.
Regards,